Washington Fish Report
Roosevelt Lake Fish Report for 2-17-2023
Davenport angler reels in a new state-record lake whitefish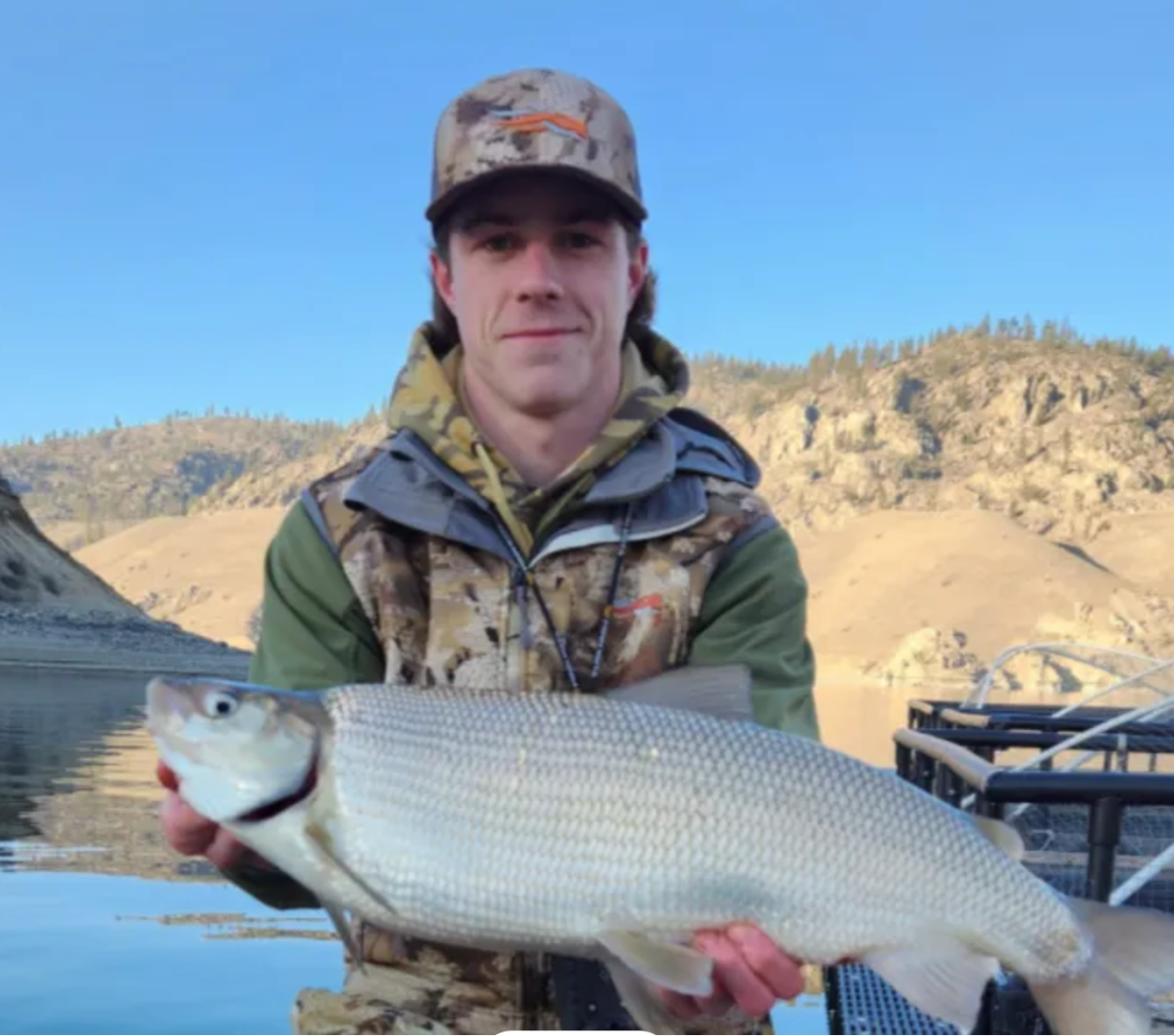 Gavin Boggs of Davenport with the new state-record lake whitefish he caught in Lake Roosevelt on Feb. 11.
Photo Credit: 📷 WDFW
by WA Department of Fish & Wildlife Staff
2-17-2023
Website

The first state record fish of 2023 was caught in a north-central Washington lake.
A Davenport angler made quite the surprising catch while fishing for walleye at Lake Roosevelt on the afternoon of Feb. 11.
Gavin Boggs, who spends a lot of time fishing at Lake Roosevelt — a vast impoundment stretching more than 150 miles from Grand Coulee Dam into Canada — was out with his college buddy near the Lincoln boat launch when he hooked something very big and heavy.
"I was targeting walleye at a depth of around 75 feet using a four-inch swimbait [a lure often used for walleye and bass], and it was a pretty tough day on the water," said Boggs, who is a junior at Gonzaga University. "We did mark a lot of fish on the fish-finder and had caught one walleye before this big fish took my lure."
Boggs whose family has a place at Seven Bays toward the southern end of Lake Roosevelt, fought the fish for just a couple minutes, and it didn't pull a lot of line off his reel although he knew it was rather heavy from the bend of his fishing rod.
"As soon as I hooked it, I thought it was a big walleye," he said. "I carefully let the fish do its thing down below the boat and then when it came to the surface and we netted the fish, I was totally surprised. I've never targeted lake whitefish in Lake Roosevelt. It is my favorite place to fish for smallmouth bass and walleye, and this has changed my mind about fishing for lake whitefish."
It was getting late in the day, but the duo returned to the boat ramp and Gavin texted his father Tony Boggs, who did some research on lake whitefish and figured his son could potentially have landed a record-sized fish.
Boggs immediately iced the fish in a cooler and drove from Seven Bays to Davenport Family Foods, where an official scale verified the weight as 7.86 pounds. The store owner, a friend of the Boggs family, stayed late just so Gavin could have it officially weighed.
Gavin then took the fish to the WDFW Spokane regional office on Feb. 14 where WDFW Biologist Danny Garrett helped with the paperwork and verification process. The new state-record lake whitefish is 26.25 inches long with a girth of 16 inches and was signed off as the new official record on Feb. 17.
The old state record weighed 7.50 pounds and was caught Feb. 19, 2021, by Jacob White at Cox Lake in Franklin County.
"My dad raised me with a fishing pole in my hand and my brothers and I have pretty much fished our whole lives," said Gavin, who plans to have the fish mounted. He said former record-holder White even reached out to him on Facebook to "pass the torch."
The large lake whitefish caught in Lake Roosevelt comes as no surprise to WDFW biologists.
"Hopefully, this record will increase the excitement for lake whitefish in Lake Roosevelt," Garrett said. "This fishery goes largely unnoticed, which is a little surprising given the popularity of lake whitefish at Banks Lake."
In the fall of 2022, WDFW conducted a gillnetting survey at Lake Roosevelt, and lake whitefish dominated a good chunk of the catch, according to Garrett.
"While we haven't done a specific study on lake whitefish, their biomass in Roosevelt is equal to Banks Lake, if not larger, given to how much we catch and given the size of Roosevelt versus Banks," Garrett said. "We've sampled a fish out of Lake Roosevelt that was 9.5 pounds."
Not much is known about how lake whitefish came to Washington waterways, but it is likely the non-native fish were first brought to nearby states during the late 1800s.
One theory is they were first introduced into Lake Pend Oreille in Idaho and Flathead Lake in Montana, and from there they spread naturally through connected waterways or were moved around by early settlers.
"They quickly adapted to Washington waters and eventually got locked in once the dams were built," Garrett said. "They now flourish in the upper Columbia River and large lakes and reservoirs, allowing anglers easy access to a great fighting fish."
You might be surprised to learn lake whitefish are from the same family as salmon, trout, char, and grayling. They are deep-bodied and laterally compressed, and they have an adipose fin with a forked tail, which indicates they're very fast swimmers. The average size of lake whitefish is 18 to 24 inches, with some larger ones up to 31 inches. They are known to live 15 to 20 years.
You can learn about how to catch lake whitefish and their history in our recent blog post.
For more information about freshwater and saltwater sport fish records, reference the WDFW website.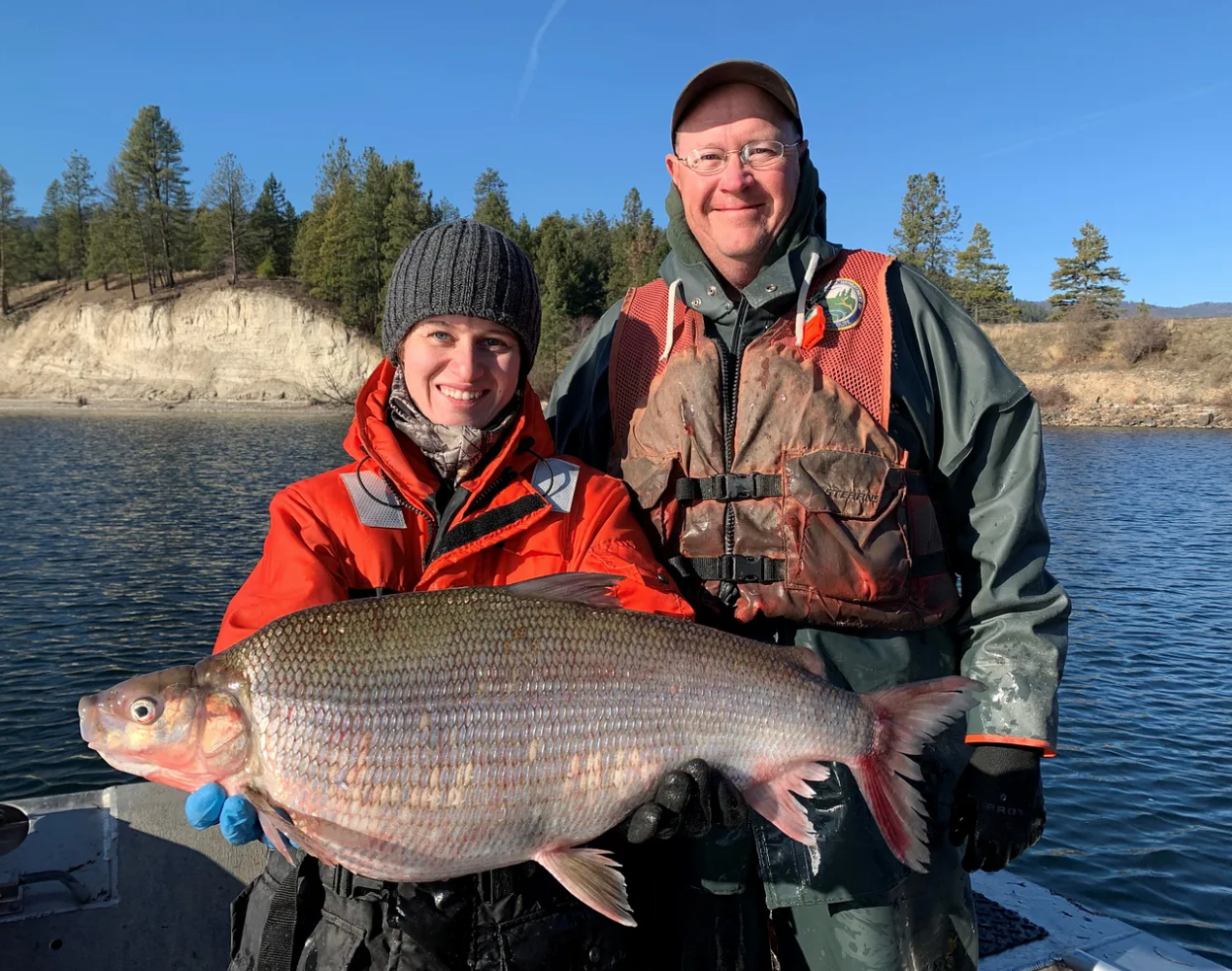 Ashley Caldwell, a WDFW Scientific Technician, and Randy Osborne, a WDFW District Fish Biologist, with a large lake whitefish from Lake Roosevelt. There are numerous lakes, reservoirs and waterways in eastern Washington where you can catch lake whitefish. .
Photo Credit: Photo by Danny Garrett, WDFW
More Reports
Six days of razor clam digging at Mocrocks beaches starts Friday, Feb. 17, Copalis Beach opens Saturday, Feb. 18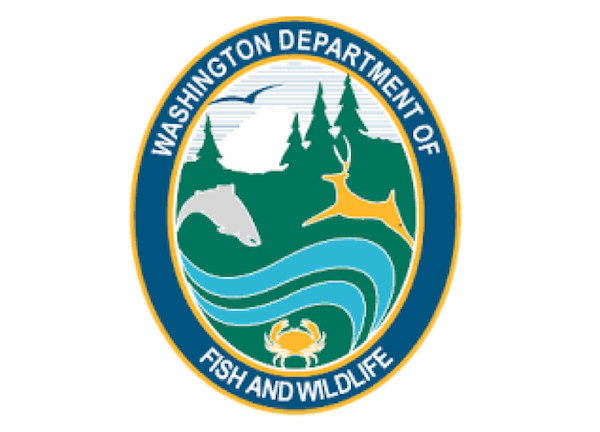 2-16-2023
OLYMPIA – Washington Department of Fish and Wildlife (WDFW) shellfish managers today confirmed razor clam digging reopens at Mocrocks beaches......
Read More
WDFW invites public participation in annual salmon season-setting process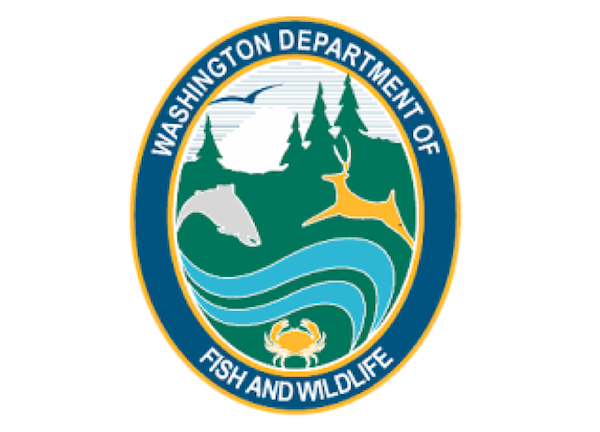 2-15-2023
Washington's North of Falcon process kicks off March 3 with statewide salmon forecast meeting at the Lacey Community Center OLYMPIA –......
Read More
Washington.FishReports.com © 2023. All Rights Reserved.
Website Hosting and Design provided by
TECK.net